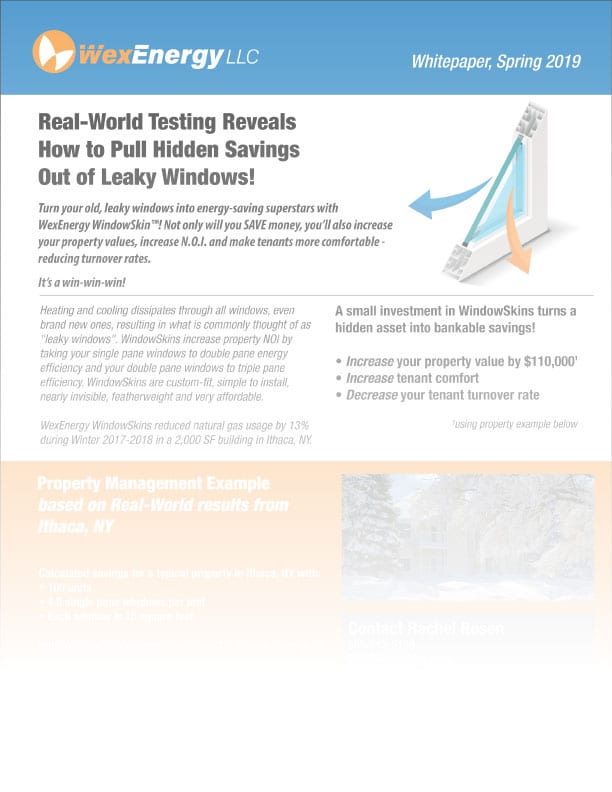 Independent Validation
Taitem Engineering P.C. in Ithaca, NY has validated WexEnergy's Basic WindowSkin™ prototype performance. This validation was performed in Taitem's test facility  for testing window insulation performance. The validation study of a single pane window with the  an earlier prototype mountedon the Base Window found a 33% reduction in heat transfer rate compared to the same single pane window, alone. This result corresponds to 82% of the improvement expected by replacing the single pane window with a new air-filled double pane window. WexEnergy LLC anticipates improved test results when the current prototype is tested.  These test results will posted as soon as testing is completed.  The validation study of a double pane window with WexEnergy's Basic WindowSkin™  found a 23% reduction in heat transfer rate. This corresponds to a 24% improvement in energy efficiency  performance or the equivalent of a current Energy Star rated window for Southern US Climates.
Innovation Fund AwardS
WexEnergy LLC received a 2016 Innovation Fund Award from the Syracuse Center of Excellence in Environmental and Energy Systems (SyracuseCoE). Under this award contract, independent validation of WindowSkinTM performance was conducted by Taitem Engineering, P.C. in Ithaca, NY at a facility designed to test window performance. The study also  modelled energy savings for WindowSkin™ prototypes, including low-E prototypes (next generation), on an air-filled double pane window. This window type was chosen because it most closely mimics the energy performance of  double-pane windows that are at least 25 years old.
The energy modelling found an average decrease of  ~11.5% in Natural Gas usage (range of 35% to 9%) when WexEnergy's Basic WindowSkinTM is mounted on an air-fill double pane window.  An average decrease of 26% in Electric Energy usage (range of 40% - 25%) was found when the next-generation WindowskinTM is mounted on an air-filled double pane window.
Intellectual Property
WexEnergy LLC has protected WindowSkin™ with four issued patents:
US 9,234,381
US 9,663,983
US 9,845,636
US 10,196,850
and three pending applications:
USSN 15/845,717
USSN 15/987,612
USSN 16/265,746
PICT/US2018/034183
WexEnergy Innovations LLC has protected WindoWare™ with six issued/allowed U.S. patents:
US 8,923,650
US 9,208,581
US 9,230,339
US 9,691,163
US 9,842,397
USSN 15/628,093 allowed
And Issued/Allowed Foreign Patents
And two pending foreign applications.